Obituary for Harriett Skye
Harriett Skye – Makhpiya To Win, Blue Skye Woman (Lakota, Standing Rock) passed peacefully at her home in Walnut Creek, CA on January 20, 2018 in the loving arms of her daughter Jessica, granddaughter Jordan and niece Karen.

Harriett was beloved and cherished by all who met her. Growing up, her magnetic personality, musical talent and movie star good looks were something to behold. She loved to dance and sing and generally bring joy to all those around her. She was an accomplished classical pianist and vocalist, enjoying every opportunity to entertain her family and friends rather than do dishes or home work. She was charismatic with a radiant smile and hard to miss. She welcomed everyone into her home and always made sure you were fed and full of fry bread and good stories when you left. She was a gifted story teller and conversationalist, her friends loved her dinner parties at her home and singing while she played the piano for them.

Harriett was born in Rosebud, SD on December 6, 1931 to Douglas and Margaret Skye. She was raised on the Standing Rock Sioux reservation in Fort Yates, North Dakota next to the Missouri river. She is the eldest of 7 children, brothers, Douglas Jr., Joseph, Thomas (deceased), Clarence and sisters Donna and Corrine (deceased).

Harriett attended the Standing Rock Community High School where she graduated in May of 1949. After graduation she moved to Fontana, CA where she worked for a year and later returned to Standing Rock and married Reuben Paul. Together they had 4 children, William (Bill), Jason (Jay), Vincent (Vince) and Jessica (Corky). Rueben worked for the Bureau of Indian affairs so they traveled and lived on various reservations during the 1950s and 60s. Sadly in 1971, they lost their son Jay while living in Sells, Arizona and divorced the following year. Harriett often said there is no getting over the loss of a child, the only thing you can do is work and keep moving forward but the grief never goes away. Tragically, she felt the loss again when her son Bill passed away in 1998 from colon cancer. She was devastated but managed to survive by immersing herself in her dissertation and homework while studying at Berkeley.

In 1974 Harriett took a job as the editor of The Standing Rock Star in Fort Yates, ND and later went to work for United Tribes in Bismarck, ND where she was the Editor of the United Tribes News and responsible for the Office of Public Information (OPI). She was a multimedia journalist, hosting and moderating Indian Country Today, a 30-minute television show on KFYR-TV from 1972-1984. The bi-weekly, half-hour interview program placed prominent Indians before the public to talk about issues from a tribal point of view, earning her a loyal following among tribal and non-tribal viewers. Among the accolades, she cherishes is one from a fellow broadcaster who said, "Skye is bringing Native people into the homes of an audience that wouldn't allow an Indian into their living room." She built many bridges in the community and was well respected and recognized for her decades of hard work.

Harriett served on the North Dakota advisory board to the U. S. Commission on Civil Rights and worked to further Indian Education Act legislation. In Denver and Washington, D.C., she participated in hearings on employment discrimination that led to studies of the issue. Her involvement brought death threats, which she accepted as coming "with the territory." In 1979, she took a new role as the Executive Director of the Dakota Association of Native Americans headquartered in Bismarck, ND.

In 1984, she left North Dakota and moved to Washington, DC, where she worked for the National Tribal Chairmen's Association and the Native American Science Education Association. It was in northern VA where she lived, that she decided to retire and further her academic dreams. She enrolled in Northern VA Community College at the age of 55 and began her journey to complete her education. Later she would earn a PhD in ethnic studies from the University of California – Berkeley. She completed her undergraduate work at New York University where she earned her bachelor's degree May 1993. She graduated cum laude and was NYU's Key Pin Award Honors Scholar. While at NYU she produced, and directed a 27-minute film documentary entitled, "The Right to Be," an autobiographical story about her journey as an American Indian woman on the pathway of self-awareness and higher education. Her film was featured at the Sundance Film Festival in 1994. She was as thrilled to meet Robert Redford as she was the screening of her film at such a prestigious film festival. In January of 1998 she completed her Master's program at NYU.

Harriett next returned to United Tribes at the invitation of Dr. David M. Gipp, the college president. As vice president of Intertribal Programs, she supervised six programs and served on the college's administrative council helping to guide policy and make key organizational decisions. It was often said that during lunch time in the cafeteria, she would have a table full of eager listeners as she told stories about college and growing up in North Dakota. Age or money weren't excuses or obstacles to getting an education, if she could do it, everyone can do it she would say. It was inspiring.

Over the course of her career she was the recipient of over 20 awards, wrote 16 unpublished works and 4 publications.

In September of 2016 Harriett was inducted into the Native American Hall of Honor at the North Dakota state capital. The award and recognition are given to Native Americans who have gone above and beyond in representing their tribe and culture. She was a worthy recipient, dedicating her life to Native and women's rights and educational endeavors for Native students.

Harriett was very public about her sobriety, for 45 years she lived a sober life and encouraged anyone struggling with drugs and alcohol to do the same if they wanted that for themselves. She worked tirelessly taking calls late at night, attending meetings, counseling and coaching anyone who asked, it was part of her life's work and her commitment to sobriety and living One Day at A Time.

Harriett is survived by her son Vincent Paul and wife Regina, daughter Jessica Skye Paul and granddaughter Jordan Skye Paul, her brothers Douglas, Joseph, Clarence and sister Donna Maday, and many nieces, nephews, cousins, grandchildren and extended family members, including her loyal companion and four legged puppy son, Poppi Skye. She was dearly loved and cherished and will be greatly missed, but her legacy and stories live on in her children and all those fortunate enough to know her.

Donations may be made to the United Tribes Technical College at 3315 University Drive, Bismarck, ND 58504, Attention: J. McLeod or L. Hall – Memories and Donations

Friends and family are invited to a funeral service at Hull's Walnut Creek Chapel on Friday, January 26, 2018 at 1pm and the reception following the service at the Marriott Walnut Creek at 2355 North Main from 3pm to 6pm.
To send flowers or a remembrance gift to the family of Harriett Skye, please visit our Tribute Store.
Previous Events
Funeral Service
Hull's Walnut Creek Chapel
1139 Saranap Avenue
Walnut Creek, CA 94595-1119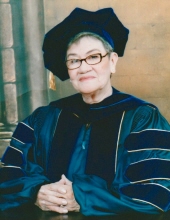 Thank you for sharing your
memory of Harriett
Provide comfort by sending fresh
flowers from our local florist.
No thanks, please don't show me this again.